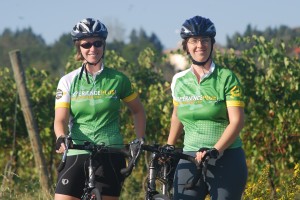 Fort Collins, CO – Award-winning bicycle tour operator ExperiencePlus! announced today that their business achieved a 25% increase in bookings in 2015 over 2014.  Founded in 1972 by Rick and Paola Price, the company is now owned by the couple's travel-savvy daughters, Maria-Elena and Monica Price, who were recognized in 2011 by National Geo Traveler in their "Ten Great Tour Guides" roundup.  With a deep family heritage of international bike touring experience, the Experience Plus! team boasts over 40 years of bike travel expertise and a logistically strong presence in Europe and North America with its impressive tour and bike fleet headquarters in Italy – and its sales and administrative base in Colorado. The company strives to offer its guests access to some of the finest cycling destinations on the planet –with daily itineraries designed to please the most discriminating, fit, and experienced of bike travelers.
Over the course of its long experience in global bike travel, ExperiencePlus! has pioneered a deeply satisfying bike travel experience for its demanding guests, offering highly-supported – but lightly-guided cycling tours – that give cyclists the freedom and independence to cycle each day as they wish – while creating a guest experience rich in great cycling routes, and immersive cultural and culinary delights. Tours are hosted and led by highly-experienced, multi-lingual cycling guides, with deep knowledge of the local language and highlights of their respective regions. Tour leaders act as a "mobile concierge service on two wheels" masterfully scouting, planning and orchestrate each tour day – literally drawing chalk arrows on the landscape of each route, delivering luggage to hotels, and conducting concise, daily tour briefings each morning with leisurely reflections on the day's journey at dinner. The guides are never far away, allowing cyclists to ride at their own pace as desired – but are always available to guests while they ride.
Because of its reputation as a company that offers challenging cycling tours that are also rich in cultural and sensory indulgences, ExperiencePlus! has one of the highest repeat guest ratios in the adventure travel industry.  It is not unusual for guest to do more than one tour per year and to return for 6-8-10 trips over time, often bringing family and friends to share their trip.  Travelers who book a cycling trip with ExperiencePlus! are fun, interesting and lovers of culture, nature, gastronomy. The carefully-curated itineraries created by the Price Family bring them back again and again.
Worldwide destinations served by ExperiencePlus! include Italy, France, Spain, Austria, *at www.experienceplus.com   From their European office, guides and staff provide superior quality bikes.
From their operations headquarters in Italy, ExperiencePlus! provides support for their tours in Europe, creates new itineraries, trains guides and bike mechanics as well as supplying rentals and support for travelers and other tour operators. Itinerary planning and rentals are through www.bikerentalsplus.